If you go to this link and listen to it 3 times in a row…. you tell me why the church banned this ghost band?
http://margaretnoble.net/blog/banned-by-the-catholic-church/
Please leave your comments on the original page… and wait to see what happens….guess what the church was scared off???
lets see who posts the right answer before October 31 2010
USE THE FORCE LUKE
12.08.2009
Banned by the Catholic Church
Categories: Sound Oddities
800px-Shepard_Tones_spectrum_linear_scale
Sound Clip: Shepard Tone by Roger Shepard
This is a classic sound oddity and illusion. Or is it? There are some corrections to this post with much discussion, see below and follow the trail of comments to clarify the inaccuracies.
Originally posted:
"It is rumored to be called the "devil's tone" by the Catholic church. The Shepard tone is a sound consisting of a superposition of sine waves separated by octaves. When played with the base pitch of the tone moving upwards or downwards, it is referred to as the
Shepard Scale. This creates an auditory illusion that continually ascends or descends in pitch, yet which ultimately seems to get no higher or lower."
shepard_tone2
Corrections here and below in comments from Brent Williams:
"Hi Margaret.
"Baned by the Catholic Church", about a Shepard-Risset Glissando. This post contained links to certain webpages, but when the post went up (even before it was moderated) the links were missing. Just in case you want to put them up for your readers, here they are:
The original source page for this sound file is here . It is in French.
You can find the Wiki source page here . This contains a little more info on the sound. This is where I confirmed that the sound is a minor chord of synchronised Shepard-Risset glissandi.
Read about Diana Deutsch here . She is currently a Professor at UCSD.
All the best, and please continue with your excellent website.
Brent Williams"
Categories: Sound Oddities -
Start Slide Show with PicLens Lite
Published on 09-02-2010
By Jurriaan Maessen – Infowars
It's the eugenicist in the Discover Channel building multiplied by a million. Not simply a lone eco-terrorist saying "parasitic human infants" must die, but one of the largest international financial institutions demanding it. To make the contrast even more remarkable, James J. Lee scared the living daylights out of some Discovery Channel employees, the IMF & World Bank take hostage entire nations.
In its 1984 World Development Report, the World Bank threatens nations who are slow in implementing the Bank's "population policies" with "drastic steps, less compatible with individual choice and freedom."
The report, literally saturated with dehumanizing proposals, is devoted entirely to the World Bank's long-term strategies in regards to population control:
"(…) economic policy and performance in the next decade will matter for population growth in the developing countries for several decades beyond; population policy and change in the rest of this century will set the terms for the whole of development strategy in the next."
To illustrate how serious the World Bank is in achieving the overall strategy objectives on population control, the report does not shy away from outright threats:
"Population policy has a long lead time; other development policies must adapt in the meantime. Inaction today forecloses options tomorrow, in overall development strategy and in future population policy. Worst of all, inaction today could mean that more drastic steps, less compatible with individual choice and freedom, will seem necessary tomorrow to slow population growth."
In the Foreword, then President of the World Bank and 1985 Bilderberg attendee, A.W. Clausen stated:
"(…) although the direct costs of The World Bank programs to reduce population growth are not large, a greater commitment by the international community is sorely needed to assist developing countries in the great challenge of slowing population growth."
"(…) governments can use incentives and disincentives to signal their policy on family size", the report continues. "Through incentives, society as a whole compensates those couples willing to forgo the private benefits of an additional child, helping to close the gap between private and social gains to high fertility."
To give an adequate illustration of the World Bank's preference for all-out government control over the people, and their intent on meddling in people's personal decisions, the following quote will suffice (page 107):
"By taxing and spending in ways that provide couples with specific incentives and disincentives to limit their fertility, government policy can also affect fertility in the short run. Government can offer "rewards" for women who defer pregnancy; it can compensate people who undergo sterilization for loss of work and travel costs; and it can provide insurance and old-age security schemes for parents who restrict the size of their families. Each of these public policies works through signals which influence individual and family decisions- when to marry, whether to use contraception, how long to send children to school, and life expectancy, and whether and how much family members work."
Under the header "Incentives and disincentives" (page 121), the World Bank proposes several more examples of government interference in the affairs of free humanity:
"To complement family planning services and social programs that help to reduce fertility, governments may want to consider financial and other incentives and disincentives as additional ways of encouraging parents to have fewer children. Incentives may be defined as payments given to an individual, couple, or group to delay or limit child-bearing or to use contraceptives. (…). Disincentives are the withholding of social benefits from those whose family size exceeds a desired norm."
The report uses the example of China to make clear such measures can be highly successful if governments would only be willing to implement them:
"With the possible exception of China, efforts to raise the age at marriage by persuasion and edict have not been particularly successful."
"In China the birth rate at the end of 1982 was estimated to be nineteen per 1,000 people, down from forty in the 1960s. The current figure, based on birth registrations rather than on a census, may slightly understate the actual birth rate; but it would still be well below current rates in South Asia, Africa, and most of Latin America."
On page 124, the World Bank report further marvels at the Chinese government's accomplishments:
"China has the most comprehensive set of incentives and disincentives, designed (most recently) to promote the one-child family. Since the early 1970s women undergoing various types of fertility-related operations have been entitled to paid leave: in urban areas fourteen days for induced abortion; ten days for tubal ligation; two to three days for insertion or removal of an IUD; and in the case of postnatal sterilization, seven extra days over the normal fifty-six of paid maternity leave."
Bizarrely, the report even goes so far as to suggest introducing "sterilization vans" and "camps":
"Male and female sterilization and IUDs can be made more readily available through mobile facilities (such as sterilization vans in Thailand) or periodic "camps" (such as vasectomy and tubectomy-camps in India and IUD "safaris" in Indonesia)."
Making clear that the overall World Bank population reduction strategy must be implemented in a country-specific manner, the report states:
"The specific policy agenda for each country depends on its political culture, on the nature of the problem it faces, and on what it has already accomplished."
What does have to be global, according to the World Bank, is continuing urbanization: people nicely locked up in massive townships. The report explains:
"Living in small towns does less to reduce fertility than does living in larger cities. That many of these changes take time to have an effect only underlines the need to begin them now. At the same time, other measures that complement and speed socioeconomic change can hasten a decline in fertility."
This report is completely in step with the strategies outlined by the UN, the Rockefeller Foundation, Ford Foundation, World Health Organization and IMF as they move to depopulate the earth in a consorted global effort. The pretexts for fertility reduction given throughout the report are "sustainable development" and "poverty reduction". The truth is, so states the World Bank itself, to introduce and further develop "policy measures to increase people's welfare as well as (and as a means) to reduce fertility."
Kurt Nimmo
Infowars.com
September 1, 2010
| | |
| --- | --- |
| | |
| | |
| | |
| Police block the street in front of the headquarters of Discovery Channel networks building. Photo: Jose Luis Magana. | |
| | |
A eugenicist demanding the Discovery Channel must "broadcast to the world their commitment to save the planet" and "stop encouraging the birth of any more parasitic human infants" has taken a hostage at the television network's headquarters in downtown Silver Spring, Maryland.
The media reports the man entered the building with explosives and has taken a security guard hostage. Montgomery County Police spokesman Cpl. Dan Fritz told the Washington Post that tactical and bomb squad officers are on the scene and are developing a plan to deal with the situation.
According to the Post, a note was posted on the internet on July 18 demanding the implementation of a global eugenics program. "All programs on Discovery Health-TLC must stop encouraging the birth of any more parasitic human infants and the false heroics behind those actions," the post reads. "In those programs' places, programs encouraging human sterilization and infertility must be pushed. All former pro-birth programs must now push in the direction of stopping human birth, not encouraging it."
The post was posted on the savetheplanetprotest.com website. The entire "manifesto" follows with a screen-shot before the document was removed:
The Discovery Channel MUST broadcast to the world their commitment to save the planet and to do the following IMMEDIATELY:

1. The Discovery Channel and it's affiliate channels MUST have daily television programs at prime time slots based on Daniel Quinn's "My Ishmael" pages 207-212 where solutions to save the planet would be done in the same way as the Industrial Revolution was done, by people building on each other's inventive ideas. Focus must be given on how people can live WITHOUT giving birth to more filthy human children since those new additions continue pollution and are pollution. A game show format contest would be in order. Perhaps also forums of leading scientists who understand and agree with the Malthus-Darwin science and the problem of human overpopulation. Do both. Do all until something WORKS and the natural world starts improving and human civilization building STOPS and is reversed! MAKE IT INTERESTING SO PEOPLE WATCH AND APPLY SOLUTIONS!!!!

2. All programs on Discovery Health-TLC must stop encouraging the birth of any more parasitic human infants and the false heroics behind those actions. In those programs' places, programs encouraging human sterilization and infertility must be pushed. All former pro-birth programs must now push in the direction of stopping human birth, not encouraging it.

3. All programs promoting War and the technology behind those must cease. There is no sense in advertising weapons of mass-destruction anymore. Instead, talk about ways to disassemble civilization and concentrate the message in finding SOLUTIONS to solving global military mechanized conflict. Again, solutions solutions instead of just repeating the same old wars with newer weapons. Also, keep out the fraudulent peace movements. They are liars and fakes and had no real intention of ending the wars. ALL OF THEM ARE FAKE! On one hand, they claim they want the wars to end, on the other, they are demanding the human population increase. World War II had 2 Billion humans and after that war, the people decided that tripling the population would assure peace. WTF??? STUPIDITY! MORE HUMANS EQUALS MORE WAR!

4. Civilization must be exposed for the filth it is. That, and all its disgusting religious-cultural roots and greed. Broadcast this message until the pollution in the planet is reversed and the human population goes down! This is your obligation. If you think it isn't, then get hell off the planet! Breathe Oil! It is the moral obligation of everyone living otherwise what good are they??

5. Immigration: Programs must be developed to find solutions to stopping ALL immigration pollution and the anchor baby filth that follows that. Find solutions to stopping it. Call for people in the world to develop solutions to stop it completely and permanently. Find solutions FOR these countries so they stop sending their breeding populations to the US and the world to seek jobs and therefore breed more unwanted pollution babies. FIND SOLUTIONS FOR THEM TO STOP THEIR HUMAN GROWTH AND THE EXPORTATION OF THAT DISGUSTING FILTH! (The first world is feeding the population growth of the Third World and those human families are going to where the food is! They must stop procreating new humans looking for nonexistant jobs!)

6. Find solutions for Global Warming, Automotive pollution, International Trade, factory pollution, and the whole blasted human economy. Find ways so that people don't build more housing pollution which destroys the environment to make way for more human filth! Find solutions so that people stop breeding as well as stopping using Oil in order to REVERSE Global warming and the destruction of the planet!

7. Develop shows that mention the Malthusian sciences about how food production leads to the overpopulation of the Human race. Talk about Evolution. Talk about Malthus and Darwin until it sinks into the stupid people's brains until they get it!!

8. Saving the Planet means saving what's left of the non-human Wildlife by decreasing the Human population. That means stopping the human race from breeding any more disgusting human babies! You're the media, you can reach enough people. It's your resposibility because you reach so many minds!!!

9. Develop shows that will correct and dismantle the dangerous US world economy. Find solutions for their disasterous Ponzi-Casino economy before they take the world to another nuclear war.

10. Stop all shows glorifying human birthing on all your channels and on TLC. Stop Future Weapons shows or replace the dialogue condemning the people behind these developments so that the shows become exposes rather than advertisements of Arms sales and development!

11. You're also going to find solutions for unemployment and housing. All these unemployed people makes me think the US is headed toward more war.

Humans are the most destructive, filthy, pollutive creatures around and are wrecking what's left of the planet with their false morals and breeding culture.

For every human born, ACRES of wildlife forests must be turned into farmland in order to feed that new addition over the course of 60 to 100 YEARS of that new human's lifespan! THIS IS AT THE EXPENSE OF THE FOREST CREATURES!!!! All human procreation and farming must cease!

It is the responsiblity of everyone to preserve the planet they live on by not breeding any more children who will continue their filthy practices. Children represent FUTURE catastrophic pollution whereas their parents are current pollution. NO MORE BABIES! Population growth is a real crisis. Even one child born in the US will use 30 to a thousand times more resources than a Third World child. It's like a couple are having 30 babies even though it's just one! If the US goes in this direction maybe other countries will too!

Also, war must be halted. Not because it's morally wrong, but because of the catastrophic environmental damage modern weapons cause to other creatures. FIND SOLUTIONS JUST LIKE THE BOOK SAYS! Humans are supposed to be inventive. INVENT, DAMN YOU!!

The world needs TV shows that DEVELOP solutions to the problems that humans are causing, not stupify the people into destroying the world. Not encouraging them to breed more environmentally harmful humans.

Saving the environment and the remaning species diversity of the planet is now your mindset. Nothing is more important than saving them. The Lions, Tigers, Giraffes, Elephants, Froggies, Turtles, Apes, Raccoons, Beetles, Ants, Sharks, Bears, and, of course, the Squirrels.

The humans? The planet does not need humans.

You MUST KNOW the human population is behind all the pollution and problems in the world, and YET you encourage the exact opposite instead of discouraging human growth and procreation. Surely you MUST ALREADY KNOW this!

I want Discovery Communications to broadcast on their channels to the world their new program lineup and I want proof they are doing so. I want the new shows started by asking the public for inventive solution ideas to save the planet and the remaining wildlife on it.

These are the demands and sayings of Lee.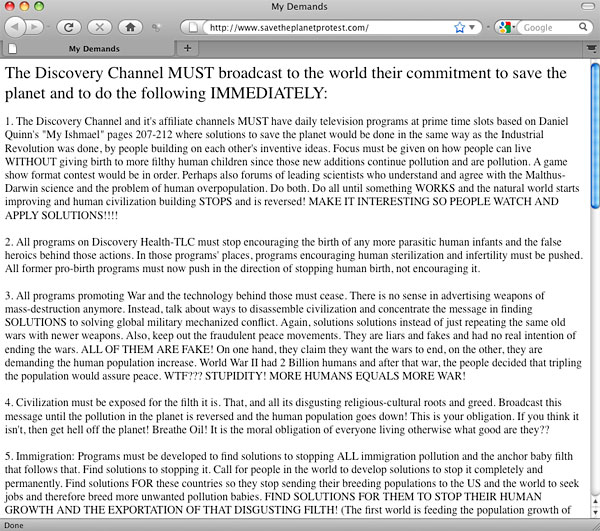 Start Slide Show with PicLens Lite
By Jim Edwards | Feb 9, 2010
Start Slide Show with PicLens Lite
See our Canadian Newspaper Calls for Malthusian Global Population Reduction Policy.
Population control called key to deal
http://www.chinadaily.com.cn/china/20…
The real inconvenient truth
The whole world needs to adopt China's one-child policy
http://www.financialpost.com/story.ht…
Copenhagen: Global Population Control Program Suggested To Stop Climate Change
http://www.prisonplanet.com/copenhage…
Source: Medilexicon
The Citizens' Council on Health Care has released a new report that demonstrates evidence and concerns about the extension of eugenics into State newborn screening programs. Today, many States are expanding testing, creating State genetic registries and using newborn blood and DNA to develop new tests for more comprehensive genomic screening of newborns at birth.
"To protect every American's right to self-determination, genetic privacy, and DNA property rights, it is time to require informed written parent consent for all facets of the newborn genetic screening program, including storage and use of genetic test results and newborn DNA," said Twila Brase, president of Citizens' Council on Health Care, and author of the report.
Most States do not require parent consent for newborn genetic testing or for government retention of newborn genetic test results and baby DNA. Some States have now begun to retain each baby's test results and DNA indefinitely for research. Most parents have no idea that government is doing the testing or retaining the data and DNA.
The new CCHC report begins with two quotes, the first from a December 2008 report, The Changing Moral Focus of Newborn Screening: An Ethical Analysis by The President's Council on Bioethics and the second from Frederick Osborn, the former president of the American Eugenics Society, who wrote in 1946:
"Population, genetics, psychology, are the three sciences to which the eugenist must look for the factual material on which to build an acceptable philosophy of eugenics and to develop and defend practical eugenics proposals" (taken from War Against the Weak, New York Times-besting selling author, Edwin Black). "It is important for policymakers to look beyond the current newborn screening programs which test infants for only 21 to 60-some rare genetic conditions. Supporters of newborn screening appear to be planning for full genomic scans on every baby at birth,"said Brase.
Citizens' Council on Health Care supports freedom for patients and doctors, medical innovation, and the right to a confidential patient-doctor relationship.