Published: May 2, 2011 at 11:22 AM
EHRAN, May 2 (UPI) — Israeli fighter jets are conducting drills at a military base in Iraq in preparation for a strike on Iran, the Islamic Republic's Press TV reported.
The report said the Israeli planes participating in the drills include F-15, F-16, F-18 and F-22 fighter jets. It said they have conducted weeklong exercises,flying mainly at night.
Press TV said its report was based on information received from a source close to Moqtada al-Sadr's group in Iraq.
Sadr is considered to be one of the most influential religious political figures in Iraq but holds no official title. He has repeatedly called for the immediate withdrawal of U.S.-led coalition troops and U.N. forces deployed in Iraq.
The air drills are being conducted in collaboration with the U.S. military, the report said. It said Iraq was not informed of the exercises.
The U.S. maintains a number of military bases in Iraq and the government in Baghdad is not involved in any military activities occurring there, the report said.
There was no official comment on the report by Israeli government or military officials.
Last month, Brig. Gen Mohammed Ali Safari, the commander of the Revolutionary Guards, declared Israeli and American military bases in the Middle East are within range of Iran's missiles.
"Although we are capable of increasing the range of our missiles, we don't think it would be necessary because today our extra-regional enemy — the Zionist regime of [Israel] — is within the range of our missiles," he told the Fars news agency.
"As for the American forces — if they were to back Israeli threats — they would be closer to us than them [Israel] and they would be within the range of our firepower as well," he said.
News Desk [1]March 1, 2011 11:58
Mehdi Karoubi and Hossein Mousavi and their wives are held by Ahmadinejad regime.
Mehdi Karoubi and Mir Hossein Mousavi are held by Ahmadinejad government.
BOSTON — Iran's security forces fired teargas and clashed with opposition supporters in Tehran on Tuesday, where demonstrators were rallying to demand the release of two opposition leaders, according to reports from Iran.
"Security forces and people in civilian clothes clashed with demonstrators in Tehran to disperse them," opposition website Kaleme reported.
The protest follow the news that Iran's top opposition leaders Mehdi Karoubi and Mir Hossein Mousavi and their wives are being held by President Mahmoud Ahmadinejad's government, according to the New York-based International Campaign for Human Rights in Iran.
The two opposition leaders had been under house arrest since Feb. 14, after they called for new rounds of protests in solidarity with the Egyptian people.
Tehran prosecutor Gholam Hussein Mohseni Ejehi confirmed Monday that the leaders' contact with the outside world has been cut off, but he didn't say where they were being held. Opposition websites report that they were all taken to Heshmatiyeh prison in Tehran. Friends and families of the leaders have not been able to communicate with them for two weeks.
A number of influential figures have spoken out against the house arrest. Ayatollah Dastghayb, from southern city of Shiraz, Ahmad Montazeri, son of the late grand Ayatollah Ali Montazeri, Ayatollah Sanei, and former president Mohammad Khatami have all denounced the action and called for the release of the opposition leaders.
Karoubi's children have also been under pressure from the security forces. Security forces broke into the home of Hossein Karoubi, one of Mehdi Karoubi's three children, in order to arrest him, but he was not there at the time, according to opposition news websites. Hossein Karoubi has been on the run since, having only called his family once to confirm that he is alive and safe.
While Mousavi and his wife were under house arrest, his daughters had tried to get in touch with their parents but were blocked by security forces, who had blocked the entrance to the street and erected an iron gate. The two daughters published an open letter on the opposition news site Rahe Sabz. Part of the letter reads:
"Masked men refused to let us pass. We are just children worried about their parents, we didn't want to talk politics. But they did.
"For a year you challenged the regime, now it's our turn to deal with you," they had said. "We killed them [referring to opposition demonstrators killed during the election aftermath], and they deserved it, because they were not human."
Commenting on the arrest of the opposition leaders, Mohammad Tahavori, a prominent Iranian journalist based in Boston, said: "The order to transfer the leaders to a secret location can only have come from the Supreme Leader himself. When it became clear that after one year the opposition was not dead and that it could get people to march in the streets by issuing a single statement, the Supreme Leader and his advisers realized this can lead to disastrous consequences, and so they decided it was time to deal with the leaders."
Mehdi Karoubi and his wife Fatemeh Karoubi, were also subject to verbal and physical harassment over the past week, according to reports. Neighbors told opposition websites that an acoustic bomb was thrown inside their house. Later a mob gathered outside their house and shouted they were "waiting for orders from the Supreme Leader to behead them, and take their bodies around town for everyone to see."
Ultra conservative figures have constantly called for the opposition leaders to be arrested and executed.
"Given the lynch mob-like calls for their execution by numerous Iranian politicians and clerics, there is reason to be deeply concerned for their safety and well being," said Aaron Rhodes, spokesperson for the International Campaign for Human Rights in Iran in the statement published on the campaign's website.
After the protests of Feb. 14, the Ahmadinejad government has put pressure on influential public figures who since 2009 had shown some degree of support for the opposition. A few were pressured to issue statements supporting the Ahmadinejad government and calling on the opposition to stop their campaign.
A video published on the internet on Saturday shows a group of plainclothes police surrounding the daughter of Hashemi Rafsanjani, head of the Guardian Council and former president, and verbally abusing her. She had spoken out against the results of the 2009 election and participated in some of the anti-government demonstrations.
Meanwhile Iran's opposition has called for new rounds of protests, the first one to be held on Tuesday. Speakers for the opposition leaders have called for the protest to continue today and every Tuesday until the leaders are released and their demands are met.
"I have been talking to many people in Tehran," said Iranian journalist Tahavori, "and they are very angry about the situation."
Tahavori adds that events depend on whether "protesters will be able to gather in groups, something that they were unable to do the last time."
The government, according to Tahavori, will not release the opposition leaders any time soon unless it is challenged by their supporters.
"Figures such as former President Mohammad Khatami, who still has power to negotiate with the Supreme Leader, could also step in and negotiate," Tahavori said, "but it is not clear if he is willing to do it."
Source: Federal News Radio
In places like Arlington, Va.; Washington, D.C.; across the U.S. and around the world, a global cybersecurity exercise is underway designed to test the limits not only of the "network of networks," but the ingenuity of the people charged with protecting it.
Welcome to Cyber Storm III.
This is the third time that the Department of Homeland Security, in conjunction with other federal agencies, is holding this global cybersecurity exercise. Previous Cyber Storm exercises were conducted in 2006, and again in 2008. For the first time, DHS will manage its response to Cyber Storm III from its new National Cybersecurity and Communications and Integration Center.
Normally, this facility, located in a nondescript office building in Arlington is classified and closed to the public. But the NCCIC recently opened its doors for an inside look to let DHS officials brief the media on Cyber Storm III, a worldwide cybersecurity response exercise that has been underway since late Monday.
Brett Lambo, the director of the Cybersecurity Exercise Program with DHS's National Cybersecurity Division, is the architect, or game master for this global cybersecurity exercise.
"The overarching philosophy," he told reporters in a recent briefing at the NCCIC, "is that we want to come up with something that's a core scenario, something that's foundational to the operation of the Internet."
Cyber Storm III includes many players in places across the U.S. and around the world:
* Seven federal departments: Homeland Security, Defense, Commerce, Energy, Justice, Treasury and Transportation.
* Eleven states: California, Delaware, Illinois, Iowa, Michigan, Minnesota, North Carolina, New York, Pennsylvania, Texas, Washington, plus the Multi-State Information Sharing and Analysis Center (ISAC). This compares with nine states that participated in Cyberstorm II.
* Twelve international partners: Australia, Canada, France, Germany, Hungary, Japan, Italy, the Netherlands, New Zealand, Sweden, Switzerland, and the United Kingdom (up from four countries that participated in Cyber Storm II).
DHS officials also say 60 private sector companies will participate in Cyber Storm III, up from 40 who participated in Cyber Storm II. Firms include banking and finance, chemical, communications, defense industrial, information technology, nuclear, transportation and water.
Lambo said to preserve the exercise's value as a vigorous test of cybersecurity preparedness, exact details of the scenario which participants will deal with over the next three days are secret. However, he did share some of the broad parameters of the scenario he helped write, and which he will administer.
"In other exercises, you do have specific attack vectors; you have a denial of service attack, you have a website defacement, or you have somebody dropping a rootkit," he said. "But we wanted to take that up a level to say, 'All of those things can still happen, and based on what you do, if you're concerned about the availability of infrastructure, we can look at what happens when the infrastructure is unavailable.'"
Lambo said another way to look at the scenario is that it builds upon what they learned from previous exercises.
"In Cyber Storm I, we attacked the Internet, in Cyber Storm II, we used the Internet as the weapon, in Cyber Storm III, we're using the Internet to attack itself," he said.
Lambo added under normal circumstances, the Internet operates based on trust that a file, or a graphic, or a computer script is what it says it is, and comes from a trusted source. But what if that source was not what it said it was, or the source has a malicious intent?
"What we're trying to do is compromise that chain of trust," he said, in further explaining in broad strokes of the Cyber Storm III exercise scenario.
Lambo and his colleagues at the Cyber Storm control center also will introduce new, and hopefully unexpected conditions to the scenario to further test participants.
"We have the ability to do what we call dynamic play," he said. "If we get a player action coming back into the exercise that is either different from what we expected it to be, if it's something we'd like to chase down further, or if it's something we'd like to pursue, we have the ability to write injects on the fly."
He said those injects could include new attacks.
The Cyber Storm exercise will be conducted primarily using secure messaging systems like e-mail or text messages to relay intersects to participants and that the simulated attacks are not being conducted over a live or a virtual network now in operation on the Internet, he said.
For the U.S. government, Cyber Storm III also offers the opportunity to test the DHS' National Cyber Incident Response Plan.
"We want to focus on information sharing issues,:" he said. "We want to know how all of the different organizations are compiling, acting on, aggregating information that they're sharing, especially when you're thinking about classified lines coming into the unclassified domain. There's a concept called tearlining, in which we take classified information, and get it below the tearline, so that those without security clearances and get it, and act on it."
The Cyber Storm III exercise is expected to conclude by 10.01.10
Was Stuxnet Built to Attack Iran's Nuclear Program?
By Robert McMillan, IDG News
September 2010
A highly sophisticated computer worm that has spread through Iran, Indonesia and India was built to destroy operations at one target: possibly Iran's Bushehr nuclear reactor.
People who read this also read:
People Who Like This Also Like
That's the emerging consensus of security experts who have examined the Stuxnet worm. In recent weeks, they've broken the cryptographic code behind the software and taken a look at how the worm operates in test environments. Researchers studying the worm all agree that Stuxnet was built by a very sophisticated and capable attacker — possibly a nation state — and it was designed to destroy something big.
Though it was first developed more than a year ago, Stuxnet was discovered in July 2010, when a Belarus-based security company discovered the worm on computers belonging to an Iranian client. Since then it has been the subject of ongoing study by security researchers who say they've never seen anything like it before. Now, after months of private speculation, some of the researchers who know Stuxnet best say that it may have been built to sabotage Iran's nukes.
Last week Ralph Langner, a well-respected expert on industrial systems security, published an analysis of the worm, which targets Siemens software systems, and suggested that it may have been used to sabotage Iran's Bushehr nuclear reactor. A Siemens expert, Langner simulated a Siemens industrial network and then analyzed the worm's attack.
Experts had first thought that Stuxnet was written to steal industrial secrets — factory formulas that could be used to build counterfeit products. But Langner found something quite different. The worm actually looks for very specific Siemens settings — a kind of fingerprint that tells it that it has been installed on a very specific Programmable Logic Controller (PLC) device — and then it injects its own code into that system.
Because of the complexity of the attack, the target "must be of extremely high value to the attacker," Langner wrote in his analysis.
Langner is set to present his findings at a closed-door security conference in Maryland this week, which will also feature a technical discussion from Siemens engineers. Langner said he wasn't yet ready to speak to a reporter at length ("the fact of the matter is this stuff is so bizarre that I have to make up my mind how to explain this to the public," he said via e-mail) but others who have examined his data say that it shows that whoever wrote Stuxnet clearly had a specific target in mind. "It's looking for specific things in specific places in these PLC devices. And that would really mean that it's designed to look for a specific plant," said Dale Peterson, CEO of Digital Bond.
This specific target may well have been Iran's Bushehr reactor, now under construction, Langner said in a blog posting. Bushehr reportedly experienced delays last year, several months after Stuxnet is thought to have been created, and according to screen shots of the plant posted by UPI, it uses the Windows-based Siemens PLC software targeted by Stuxnet.
Peterson believes that Bushehr was possibly the target. "If I had to guess what it was, yes that's a logical target," he said. "But that's just speculation."
Langner thinks that it's possible that Bushehr may have been infected through the Russian contractor that is now building the facility, JSC AtomStroyExport. Recently AtomStroyExport had its Web site hacked, and some of its Web pages are still blocked by security vendors because they are known to host malware. This is not an auspicious sign for a company contracted with handling nuclear secrets.
Tofino Security Chief Technology Officer Eric Byres is an industrial systems security expert who has tracked Stuxnet since it was discovered. Initially he thought it was designed for espionage, but after reading Langner's analysis, he's changed his mind. "I guessed wrong, I really did," he said. "After looking at the code that Ralph hauled out of this thing, he's right on."
One of the things that Langner discovered is that when Stuxnet finally identifies its target, it makes changes to a piece of Siemens code called Organizational Block 35. This Siemens component monitors critical factory operations — things that need a response within 100 milliseconds. By messing with Operational Block 35, Stuxnet could easily cause a refinery's centrifuge to malfunction, but it could be used to hit other targets too, Byres said. "The only thing I can say is that it is something designed to go bang," he said.
Whoever created Stuxnet developed four previously unknown zero-day attacks and a peer-to-peer communications system, compromised digital certificates belonging to Realtek Semiconductor and JMicron Technology, and displayed extensive knowledge of industrial systems. This is not something that your run-of-the-mill hacker can pull off. Many security researchers think that it would take the resources of a nation state to accomplish.
Last year, rumors began surfacing that Israel might be contemplating a cyber attack on Iran's nuclear facilities.
Bushehr is a plausible target, but there could easily be other facilities — refineries, chemical plants or factories that could also make valuable targets, said Scott Borg, CEO of the U.S. Cyber Consequences Unit, a security advisory group. "It's not obvious that it has to be the nuclear program," he said. "Iran has other control systems that could be targeted."
Iranian government representatives did not return messages seeking comment for this story, but sources within the country say that Iran has been hit hard by the worm. When it was first discovered, 60 percent of the infected Stuxnet computers were located in Iran, according to Symantec.
Now that the Stuxnet attack is public, the industrial control systems industry has come of age in an uncomfortable way. And clearly it will have more things to worry about
"The problem is not Stuxnet. Stuxnet is history," said Langner in an e-mail message. "The problem is the next generation of malware that will follow."
Robert McMillan covers computer security and general technology breaking news for The IDG News Service. Follow Robert on Twitter at @bobmcmillan. Robert's e-mail address is robert_mcmillan@idg.com
Start Slide Show with PicLens Lite
CAIRO — In recent weeks, Iranian security officials have unleashed a wave of arrests across the country in an effort to neutralize the political opposition, silence critical voices and head off widespread protests when the nation marks the anniversary of the revolution on Thursday, Iran analysts inside and outside the country said.
Though the government has refrained from arresting the principal leaders of the opposition, the category of people it has pursued has grown broader over time. While a number of well-known reformists were detained shortly after the contested presidential election in June, the ranks of those imprisoned now include artists, photographers, children's rights advocates, women's rights activists, students and scores of journalists. Iran now has more journalists in prison than any other country in the world, with at least 65 in custody, according to Reporters Without Borders.
Reports have filtered out from across Iran of people being roused from their beds during midnight raids and disappearing into the penal system without an official word to family and friends, and of overcrowded jails and long stays in solitary confinement, according to human rights groups inside and outside Iran.
Though the government does not report the numbers of those arrested, the International Campaign for Human Rights in Iran, a group based in New York, calculated that in the past two months alone at least 1,000 people have been put in prison, many arrested under a blanket detention order issued in June that empowers the police to take anyone into custody for any reason.
"We don't believe their detention has to do with any specific acts they have committed but for the ideas and ways of thinking they represent," said Hadi Ghaemi, director of the human rights group. "By detaining them en masse, the government is spreading fear and intimidation, implementing a sort of a reign of terror, to dissuade potential protesters from coming out to the streets on Feb. 11."
Iran experts say the security sweeps reveal a concerted effort by the leadership to transform the country into a more efficient police state while extending its crackdown from those involved in the protest and reform movements to anyone calling for change.
Lately, the authorities seem to have singled out two groups in particular: journalists, including political and cultural reporters and editors, and women's rights activists, who have years of experience in organizing and maintaining a movement in the face of a hostile government.
Iran's leadership says it is determined to maintain control of the streets on the anniversary of the revolution, one of the most emotionally charged days in the Iranian calendar. In this smoldering political conflict, the leadership of the opposition and the government have both tried to lay claim to the revolution, with each accusing the other of straying from the path charted by Ayatollah Ruhollah Khomeini. Iranian officials often rely on large crowds of people — many of them paid by the state, the opposition charges — to prove the regime's legitimacy, and on Thursday — a day steeped in symbols and myths — the streets are likely to be filled with those who support the state.
"Today, the most important responsibility of the people, especially the young and the influential, is their participation in defending the revolution and the Islamic system and trusting officials," Supreme Leader Ayatollah Ali Khamenei said in a speech late last month given in the northern province of Mazandaran.
The pace of arrests, which soared in the summer, picked up again at year's end after tens of thousands of demonstrators filled the streets around the country during the national observance of Ashura, a religious day of mourning observed by Shiite Muslims. At least 10 people were killed when government forces opened fire on unarmed protestors. But in scenes circulated around the world on the Internet, protesters were seen fighting back, chasing after government gunmen, blocking roads and burning government vehicles.
With those images clearly in mind, the government has moved aggressively to try to prevent a repeat. Experts say that the officials have reason to be nervous. Even without calls from the principal opposition leaders, enormous crowds filled the streets on Ashura. This time those leaders, Mir Hussein Moussavi and Mehdi Karroubi, have both issued calls to pour into the streets.
"There are signs of an exceedingly nervous security apparatus that is deeply concerned about the outcome," said Hamid Dabashi, professor of Iranian studies and comparative literature at Columbia University.
The government response has been to try to intimidate, Iran experts and opposition leaders said. That has included imposing the death penalty on 11 prisoners, and hanging two. Another five death penalty cases are currently being prosecuted.
It also has included waves of arrests.
The most recent wave targeted journalists, not just those of the opposition but also reporters working for the semi-official news agencies Mehr and ISNA. The list of those arrested is a virtual "Who's Who" of Iranian journalism, among them: Akbar Montajabi, political editor of Etemad-e Melli newspaper; Ahmad Jalali-Farahani, the social affairs editor of Mehr; and Zeinab Kazemkhah, an arts and culture writer for ISNA. Other journalists, like Ahmad Zeydabadi and Masud Bastani, arrested shortly after the election, have been sentenced to long prison terms in secret court proceedings.
"The Islamic Government thinks that by such tactics it will stifle all true information, all real reporting and so will be able to flood the news with only what it wants," said Hossein Ziai, the
director of Iranian Studies at the University of California at Los Angeles.
No opposition or rights group has escaped the crackdown, including the Mourning Mothers, an organization founded by women whose children were killed by government agents in the protests that broke out after the disputed presidential election in June. Every Saturday, members of the group and their supporters sit quietly near the fountains in Laleh Park in Tehran. And every Saturday, they are chased down by the police, piled into the back of police vans, and carted off to prison, according to eyewitnesses.
Last month, on one Saturday about 30 women were arrested in the park, including a woman in her 70s who suffered a broken leg when she was shoved into the van, human rights groups said. The women were held in prison for about a week before being released.
"It shows how frightened they are of their own people, when they cannot tolerate mothers who are holding a silent vigil and want accountability," said Mr. Ghaemi.
The Mourning Mothers present the government with a dual challenge. They are sympathetic figures because their children were killed; but they also are part of an organized and popular women's rights movement that has become a primary force in shaping and sustaining the political opposition. The failure of the government crackdown to silence the opposition sentiment is in part a reflection of lessons learned during the so-called " "One Million Signatures Campaign for the Repeal of Discriminatory Laws" which started four years ago.
The campaign employed a strategy that included decentralization of power — which meant if a leader was arrested, the campaign continued — as well as "consciousness raising"' through face to face meetings and what the group's leaders called "street theater." Today, the political opposition's apparent weakness, its failure to coalescence into an organized movement, with a structure and a leader has also, as the women's movement demonstrated, turned out to make it virtually impossible to shut down. Even in the face of widespread arrests.
"I am not sure what will happen on Thursday," said Ali Ansari, of the University of St. Andrews. "Either way, it doesn't look good for the authorities."
Tania Branigan in Beijing and agencies
guardian.co.uk, Sunday 24 January 2010 15.49 GMT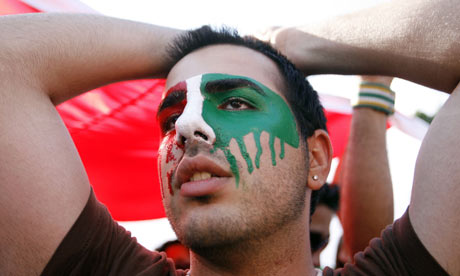 A protest over the Iranian election in Washington last June. Photograph: Molly Riley/Reuters
The United States used "online warfare" to stir up unrest in Iran after last year's elections, the Chinese Communist party newspaper claimed today, hitting back at Hillary Clinton's speech last week about internet freedom.
An editorial in the People's Daily accused the US of launching a "hacker brigade" and said it had used social media such as Twitter to spread rumours and create trouble.
"Behind what America calls free speech is naked political scheming. How did the unrest after the Iranian election come about?" said the editorial, signed by Wang Xiaoyang. "It was because online warfare launched by America, via YouTube video and Twitter microblogging, spread rumours, created splits, stirred up and sowed discord between the followers of conservative reformist factions."
Washington said at the time of the unrest that it had asked Twitter, which was embraced by Iranian anti-government protesters, to remain open. Several social media sites, including YouTube, Facebook and Twitter, have been blocked in China in the last year.
The editorial asked rhetorically whether obscenity or activities promoting terrorism would be allowed on the net in the US. "We're afraid that in the eyes of American politicians, only information controlled by America is free information, only news acknowledged by America is free news, only speech approved by America is free speech, and only information flow that suits American interests is free information flow," it added.
It attacked the decision to cut off of Microsoft's instant messaging services to nations covered by US sanctions, including Cuba, Iran, Syria, Sudan and North Korea, as violating America's stated desire for free information flow. Washington later said that such services fostered democracy and encouraged their restoration.
China initially gave a low-key response to Google's announcement that it was no longer willing to censor google.cn. The internet giant said it had reached its decision following a Chinese-originated cyber attack targeting the email accounts of human rights activists, and in light of increasing online censorship.
Clinton's direct challenge to China, in a speech that had echoes of the cold war with its references to the Berlin wall and an "information curtain", led Beijing to warn that US criticism could damage bilateral relations. Clinton called on China to hold a full and open investigation into the December attack on Google.
In an interview carried by several Chinese newspapers today, Zhou Yonglin, deputy operations director of the national computer network emergency response technical team, said: "Everyone with technical knowledge of computers knows that just because a hacker used an IP address in China, the attack was not necessarily launched by a Chinese hacker."
US diplomats sought to reach out to the Chinese public by briefing bloggers in China on Friday. They held a similar meeting during Barack Obama's visit in November.
Start Slide Show with PicLens Lite